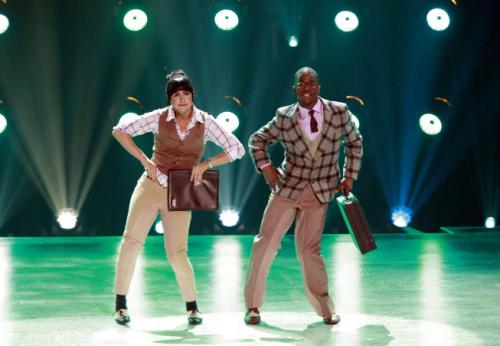 The remaining nine finalists gave it their all on So You Think You Can Dance last night in what was the best episode of the season to date. The new crew has finally arrived.
After a scattered first few weeks, with the show seemingly experimenting with its new format so much that some of the dancing was lost in the shuffle, this was vintage SYTYCD.
Let's get right down to it, because the Top 9 certainly didn't waste any time, with Adechike and Lauren the first to dance, to a hip-hop routine that let them really let loose.
Part fun and flirty and part sexy and serious, the judges appeared to love it almost as much as we did, kicking off Wednesday's top nine performances in terrific fashion.
Next was a contemporary routine Ashley performed with Ade. At first we were sure he would outshine her, but without a doubt, Ashley brought her A-game this week.
The first solo performer of the night, Billy, actually showed some much-needed swagger this week, and Alex managed out of his shell a little in his solo effort too.
Funk has been known to have that effect on people.
To Read More Click Here.