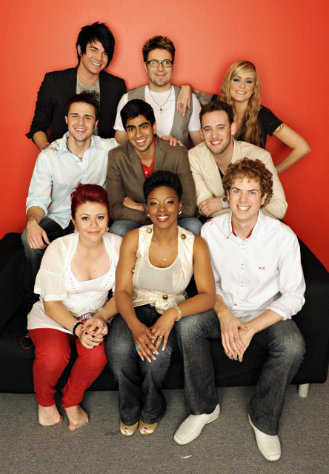 "American Idol" is loosening up a bit on the song theme this week after the specific ones in the last three weeks, Michael Jackson, country and motown. The Top 9 get to choose out of 100 songs that sit on the top position of iTunes downloads, meaning many genres like pop and hip-hop will be heard. Also, there is no mentor this week.
First to take the stage was Anoop Desai who sang some Usher, tackling the up-beat "Caught Up". Randy Jackson immediately jabbed on the song choice, reasoning that the vocal was alright but the song was not. Kara DioGuardi meanwhile asked whether he was challenged by some frat boys to sing that song. Simon Cowell kept it short, "a complete and utter mess".
Second to go was Megan Corkrey who chose to go with "Turn Your Lights Down Low" by Bob Marley. The judges didn't like it, Paula Abdul advised her to sit on a stool and stop dancing while Simon called it boring and monotonous. Kara thought that Megan is "in trouble".
Danny Gokey whose grandfather died last week, performed Rascal Flatts' "What Hurts the Most". The judges loved his slow version of the song with Simon deeming it as his best since the Top 13 performance. Paula mentioned that she wanted to push a "repeat" after hearing the song and Kara said that she had goosebumps.
To Read More Click Here.