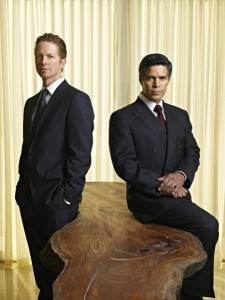 Caprica had a lot of WTF moments last night, but not in a good way. The story moved along, but character actions were kind of… scattered. Anyway. Let's get to it.
Caprica: One Month After The Bombing
We see Zoe 2.0/U-87 having flashes of Zoe's old life, her own memories and the U-87's current memories. While Zoe 2.0/U-87 lies on a work table, Daniel Graystone and Cyrus Xander discuss the problem they are having with the MCPs not taking with the other droids, but only the U-87. Even copies of the MCP won't work with the other droids, as if the bonding of the initial MCP with the U-87 droid is unique in some way.
Ya think?
All in all, Daniel has the lab technicians prep the u-87 droid to send to his house, where he will see what the problem is.
While Amanda searches her home for old movies of Zoe, Lacy is invited by Sister Clarice to her house for dinner. As Lacy reluctantly accepts the invitation, she gets a call from Zoe 2.0. Lacy wants to bring Sister Clarice in on their secret, but Zoe 2.0 makes Lacy swear to leave Sister Clarice out of the loop. Before Zoe 2.0 can finish talking to Lacy, the lab techs return. Lab Tech #1 sneers and leers at the machine as if it was a drunken college girl. Lab Tech #2 actually dubs the machine a girl, which wigs out Lab Tech #1, because that clearly (and inadvertently) called him out on his perverse nature. All while the two men bicker, Zoe 2.0/U-87 watches intently…
To Read More Click here.