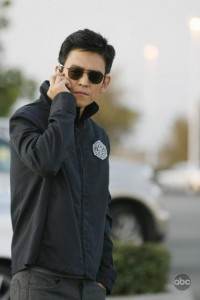 A new episode of FlashForward is set to air this week (on November 19th). While we don't have any photos for that episode, ABC has released some for the December 3rd episode, wherein we will learn more about Demetri's fiance, Zoey.
MARK AND DEMETRI IGNORE WEDECK'S ORDERS AND TRAVEL TO HONG KONG TO FIND THE WOMAN CLAIMING TO KNOW DETAILS ABOUT DEMETRI'S FATE, LLOYD TRIES TO EXPLAIN HIS AND SIMON'S INVOLVEMENT IN THE GLOBAL BLACKOUT, AND ZOEY DISCOVERS THE MEANING OF HER FLASHFORWARD VISION, ON ABC'S "FLASHFORWARD"
Gabrielle Union Guest Stars as Zoey
"A561984'' - Against Wedeck's orders, Mark and Demetri travel to Hong Kong in search of the woman claiming to know details of Demetri's fate; Lloyd tries to come clean about his and Simon's involvement in the global blackout - against Simon's better judgment - and Zoey discovers the true meaning of her flashforward, on "FlashForward," THURSDAY, DECEMBER 3 (8:00-9:00 p.m., ET) on the ABC Television Network.
"FlashForward" stars Joseph Fiennes as Mark Benford, John Cho as Demetri Noh, Jack Davenport as Lloyd Simcoe, Zachary Knighton as Bryce Varley, Peyton List as Nicole Kirby, Dominic Monaghan as Simon, Brian F. O'Byrne as Aaron Stark, Courtney B. Vance as Stanford Wedeck, Sonya Walger as Olivia Benford and Christine Woods as Janis Hawk.
Guest starring are Gabrielle Union as Zoey, Ryan Wynott as Dylan, Michael Massee as man, Shohreh Aghdashloo as Nhadra Udaya, John Prosky as Mr. Dunkirk, Ivar Brogger as Paul Becker, Elizabeth Sung as Saayo Noh, Anthony Azizi as Samad, James Frain as Gordon Myhill, Kent Shocknek as Hansen, Phillip Palmer as Campbell, Michael Ealy as Marshall Vogel, Marc Menchaca as Wheeler, Scott Kelly Galbreath as correspondent #1, Suzanne Rico as correspondent #2, Ken Rudulph as correspondent #3, Mel Rodriguez as Oscar Obregon, Elise Robertson as outraged woman, Karl Herlinger as Quarry, Leslie Ishii as mortuary priest and John O'Brien as Hawaii priest.