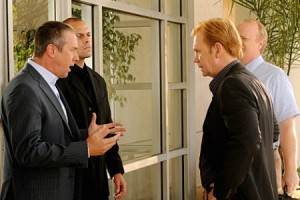 CSI: Miami is back from its winter break with an all new episode. Episode 12 is entitled Show Stopper. A pop star bursts into flames during a performance and takes Horatio and the team into the not so nice side of pop stardom.
Pop star Phoenicks is on top of the world. Her performance has drawn a huge crowd. The crowd witnesses her life come to an end as she bursts into flames around them. Horatio and Dr. Loman are surrounded by paparazzi moments after Phoenicks is taken away in an ambulance. They soon figure out that Phoenicks' real name is Phoebe Nichols. The girl that is in the morgue is not Phoebe, it is another young woman Vanessa Patton who had taken over as Phoenicks.
Stetler made a rare appearance to ask Calleigh about the suspicious miles on her Hummer that were not accounted for. She told him that she must have lent Jesse the Hummer and then quickly backtracked her story. Calleigh has been known in the past to cover for boyfriend Eric or in some instances Ryan but something feels off about her covering for Jesse. She confronts him about the extra mileage and he quickly clams up about it. He later tells her that he has been following a woman whose life may be in danger. He tells her that the man who is living with the woman he is following killed another woman and his wife back in Los Angeles.
Back to the case, Calleigh and Jesse find Phoebe in a drug induced state. Calleigh asks Pheobe if she would like her to call her mother, she says no and Calleigh understands completely. They quickly rush her to the hospital where Pheobe is concerned that the hospital staff will reveal her location to the paparazzi. Calleigh assures her they have been asked to respect her privacy. The doctors examining her find a GPS chip in her arm. Calleigh asks her if she knows where the chip comes from and she does not.
To Read More Click Here