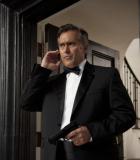 You knew after last week's finale that Michael was keenly aware that the bible with the name Simon inscribed in the front wasn't just a cipher. It was a connection back to the crazy loon who tried to kill him at the end of last season.
With a bargaining chip as huge as the bible, Michael was compelled to use it in a game of high stakes poker with Vaughn.
For more on that and how to turn an air conditioner into a killing machine, read on.
Vaughn finally returned to the scene when Michael sent out signal that they needed to talk. It must have been some signal because Vaughn showed up just before Hurricane Dana.
To Read More Click Here.