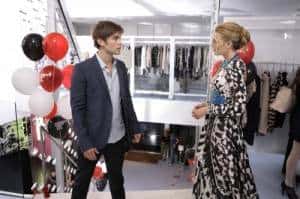 What did you think of tonight's episode of GOSSIP GIRL, The Undergraduates?
Nate: Stupid Nate! I know Serena hurt him but he should know better than to get involved with Juliet. She's obviously a liar and a manipulator. He needs to come to his senses and soon because Juliet seems dangerous.
Dan and Vanessa: Finally the truth about Georgina and Milo! I was getting a little tired of Dan and Vanessa trying to play house. I'm glad Georgina fessed up and took her and Milo out of Dan's life. I know Dan was sad to see Milo go, but it was the right thing to do. What about Vanessa moving in with Dan? The last time they were an item Dan cheated on her with Serena. Do you think they are ready to get back together?
Blair: Blair finally has her first day at Columbia. After watching Blair struggle socially at NYU it's great to see her doing what she does best: queen bee of an exclusive society and hanging out on the steps with the girls. That being said, I thought Blair was unforgivably mean to poor Eva.. I mean, peasant hands? LOL, okay I'll hand it to her that she has a way with words, but wow that was harsh! Normally Blair can do no wrong in my eyes so I hated watching that scene, although she did redeem herself with her kind gesture to her new roomie Serena.
To Read More Click Here.