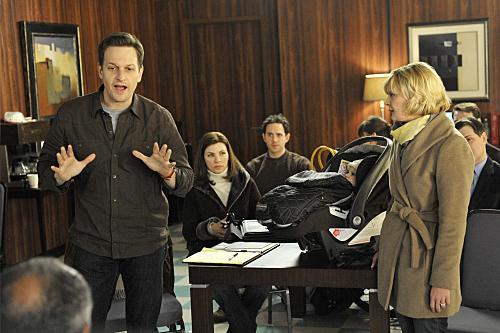 On this week's episode of The Good Wife, a Judge was faced with a decision on whether to rule pro-business or pro-life as an unborn child's life lay in the balance. You would think that would have been enough to make for an entire episode on its own.
However, on a show as incredible as The Good Wife, that part was wrapped up within the first twenty minutes. From there Kalina did her usual dirty investigating, Will was even willing to take advantage of Peter's connections, and a delicious set of blackmailing was played out.
Of course, all of that was still laced with Peter becoming religious as Eli set out for a mere photo op, the much-hyped Alicia and Will kiss, and even a little "conjugal" visit between Alicia and Peter.
Yeah, "Heart" was an incredible episode to say the least. Whether it was inside the courtroom, hanging with the pastor, or the sexy inner-office affair, there wasn't a moment of the hour we weren't hooked.
To Read More Click here.