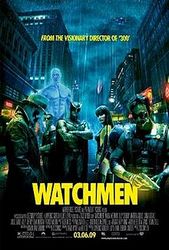 Someone has watched the final cut of the highly-anticipated "Watchmen" at a screening in Los Angeles and Latino Review has got the screening reports. Listing the eleven important things seen in the action fantasy movie, Latino Review's reader Bentley Mustafa shared out spoilerific details of what he has seen during the screening.
He started off by noting that the final cut does not contain "Black Freighter". Nonetheless, he stated that glimpses of the comic can be seen in the newsstand as well as when a kid reads it. Then, he confirmed that the ending will be different from the graphic novel and admitted that the tone is dark though mentioning that "The Watchmen reality is a little more surreal in its feel, like a dream. It really has the feel of the comic in it."
Mustafa also pointed out that Zack Snyder's son, who played young Leonidas in "300" will be making a cameo in the film and there will be a scene where Silk Spectre is seen naked. In addition, he stated that the movie "is gory", writing "I'm a gore hound and I was surprised at how graphic some scenes were. Really had people squirming." Complete details of the screening can be read at Latino Review.
Adapted from Alan Moore and Dave Gibbons' comic book series of the same title, "Watchmen" follows superhero-turned-vigilante Rorschach as he investigates the murder of his former colleague and discovers much more than a simple homicide case. Written by David Hayter and Alex Tse, it features the likes of Jeffrey Dean Morgan, Billy Crudup, Matthew Goode, Jackie Earle Haley, Malin Akerman and Patrick Wilson. It will hit the U.S. big screen on March 6.