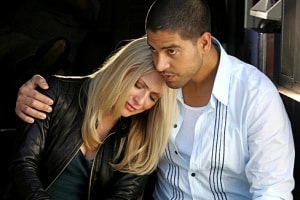 The initial discussion was about Delko's fate on CSI: Miami. Then, it went to how much Adam Rodriguez will do on the show's upcoming season, especially when on-screen partner Emily Procter openly wondered about the Calleigh-Delko story that only really kicked off last season. And now, it seems pretty much confirmed: he's leaving the show.
Sure, there's no actual confirmation from CBS and Rodriguez himself, but sources tell TV Guide Magazine that Delko will only be returning for a limited engagement and will exit the show afterwards, not be shifted to recurring status as we thought earlier. Apparently, they're not sure how this'll work out: it's possible that he'll appear in a multi-episode arc, but the least that could happen is that we'll only see him in the season premiere.
Which, if you've been up to speed, means Delko, who's in comatose after being shot at, possibly by Calleigh, will just flash back to how the team first met twelve years ago. If he's only sticking around for the season premiere, expect him to flatline at the very end. Then again, if he's doing an episode arc he'd be useless as he'd only lie around in a coma and do a few possible flashbacks.