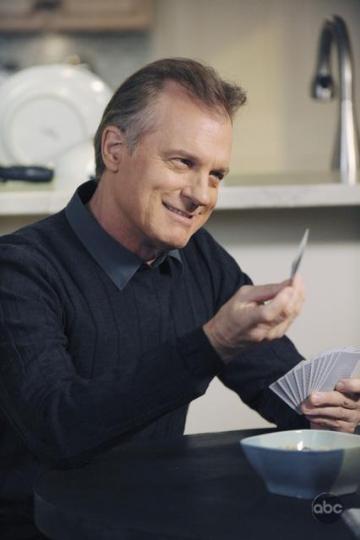 Private Practice aired back-to-back episodes last night, and while one primary story arc - involving Addison's parents - continued throughout, they were very different.
In the first hour, Sam and Naomi's parenting struggles actually brought them closer together, while in the second, Dell's world was turned upside down by Heather.
Addison and Pete treat a 60-year-old pregnant woman with a 30-year-old husband and work hard to save their at-risk baby, which they do ... at least for now.
This case was a plot device to keep Addison and Pete close after Violet stunned them both by jumping into the sack with The Captain after meeting him for 12 seconds.
Rather than worrying about Pete's feelings, or Addison's (her dad is married), Violet is pretty psyched she had sex, overcoming deeply-rooted issues the attack caused.
While we try to be happy for Violet, this is quite upsetting at the same time, and Addison and Pete are both irate, particularly the latter, who says he's "done with her."
Addison loses it with her dad, who had just come around and seemed like a decent guy, too. She wants to know why he's so wonderful to all women but her and Bizzy.
But perhaps his cheating ways aren't all what they seem. The Captain calls Bizzy and tells her if she doesn't come out to L.A. and tell Addison the truth, he's going to.
Umm ... yeah. To be continued until 10 p.m.!
Meanwhile, Violet crosses the line on the professional front as well in this episode! She, Cooper, and Charlotte work to try to help a Jewish couple practice birth control.
Their faith prohibits it ... or at least their interpretation of it does. In the end, Violet convinces the wife to take birth control ... without implicitly saying it's birth control.
Violet says the woman is iron deficient and needs the pills for (undiagnosed) "anemia." Wink, wink. Was this unethical or savvy? Quite a morally ambiguous hour for V.
Our favorite part of the first hour was Sam and Naomi disagreeing over how to handle Maya. The teenager is making out with a guy named Dink and Naomi is irate.
Sam offers to take Maya for awhile and tries his Mr. Cool Dad approach. That doesn't work either, as Maya runs roughshod over him. Sam and Nae are both at a loss.
What really worked about it, though, was that instead of pointing fingers, or lamenting their respective failures, they made a pact to stay together and work harder.
Perhaps soon they'll work harder at something besides parenting, too.