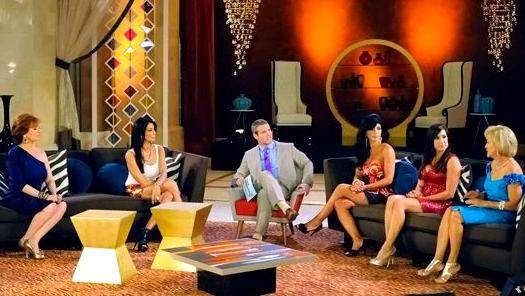 After viewing tonight's conclusion to the much talked about Real Housewives of New Jersey Reunion two-parter, I don't know if I want to sue Bravo for the whiplash I caught from watching the show or if I just want to put some ice on my neck and call it a day. Either way, I was entertained to no end and will be watching it again soon to see when the hell did Jacqueline have her epiphany that lead to apologies, hugs (!!!), and one last cry of bullsh*t from Caroline Manzo at it all. But let's look at other incidents that occurred.
I did say last week that I would withhold full judgement until I saw both parts of the reunion. Now that I have, I can say that my assumptions still stand for some of the ladies while others are still a bit fuzzy. I still think Danielle is psychotic, I am still in love with Caroline, but both Jacqueline and Teresa are in that gray area where I don't know where to place them yet. Teresa has money issues, sure. It wasn't displayed on the show this season, which I personally didn't think should've been brought up on the reunion show to begin with. Maybe next season when it will have to become some part of the show, but not now. If Teresa is lying about her house being in foreclosure, who cares? No, seriously. Who. Cares? As long as I don't have to suffer personally, financially, and mentally from Teresa's downfall then I am fine. She did it to herself, so she should be the only person who has to deal with that. Not us.
To Read More Click Here.