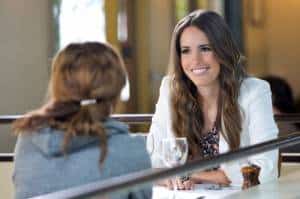 I've never hidden the fact that I don't like reality television. In fact, I'm rather vocal about it. However, I have to admit that I LOVE fashion/makeover/wedding reality shows. Say Yes to the Dress, for example, is a show I could watch every single day. So don't be surprised by the fact that I actually kind of liked the CW's newest summer reality show, Plain Jane.
The set up is fairly simple: stylist Louise Roe will take a plain girl and transform her - giving her a makeover and relationship advice. I've only seen the pilot episode so far, so I'm not certain whether each girl will be pining for a man in every episode, but I wouldn't be surprised if that were the fact. Frankly, the episode was cute. The plain Jane was kind of dorky, but sweet. She had pretty big self-esteem issues, but that's something all of us suffer from at one time or another. And as much as you can say that slapping a dress and some makeup on a girl cannot fix underlying issues, it sure can make you feel better. What I actually liked about the show was it didn't just focus on this girl's hair and makeup, but Louise actually made a point of trying to get this girl to overcome her fears - including one of snails (which are gross, so she's not wrong) and a fear of talking to guys. So at least the fairy godmother in this case also tried to tackle underlying issues.
To Read More Click Here.