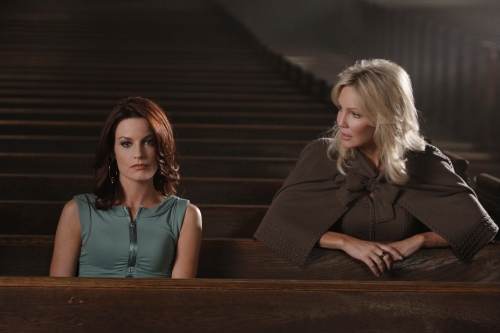 Two catfights, one "murder", one heck of a revelation and an overdose all under an hour. If you don't think Melrose was crazy tonight then I need your Primetime Soap Viewer membership card. ASAP!!!! I'm serious. I am collecting nonbelievers' memberships, because they don't know MP crazy if it stabbed them in the back and left them to die. Rant over. Now onto the recap..
The Set Up
Everyone is having some loving at 4616 Melrose Place. Except Ella that is.
She is upset that Jonah hasn't returned her calls or texts and she really wants to apologize to him for backstabbing him on the music video credit. Lauren ponders why would Ella be so upset about someone being mad at her, since Ella is prone to piss people off. Ella says that Jonah was the only person who got her. Lauren sees clear through this and tells Ella that Jonah is engaged to be married and she should count him as a loss. But Ella denies, denies, denies, that she has feelings for Jonah. When Ella leaves, Lauren gets a call from one of her old clients, Rick, who wants an encore and is willing to pay. She sets up the date. Aww come on, Lauren! Use David's trust fund!!!!
To Read More Click Here.