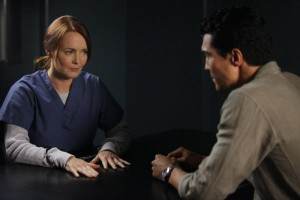 On the third episode of The Event, Sean gained an ally in FBI agent Claire Collier (Heather McComb). Sterling wants to use unscrupulous means to get Sophia to talk, but the president and vice president have a different plan. We learn confusing new information about the victims of the "crash" of Avias Flight 514.
SEAN WALKER
Just seconds after the FBI agents were told to take an alternate route because of a "chemical spill" last week, an errant RV plows into their car. Sean escapes easily, but the agents are both trapped inside. He extracts Claire, but Claire's partner doesn't make it.
Sean takes Claire to a motel room, where he attempts to use her laptop to gain access to the bureau's facial-recognition software so he can identify the nefarious Vicky Roberts. Claire explains that he can only access it from inside the building. When Claire's colleagues arrive to rescue her, Sean appears to have escaped, but actually he has snuck into the agents' trunk. He's captured at the FBI building trying to identify Vicky, and Claire arranges for a transfer of the prisoner.
At the FBI office, a newscaster says that air traffic control lost contact with Avias Flight 514, aka Sean's flight, about an hour ago. Claire realizes that it has been four hours since Sean told her about it, so clearly this is some sort of cover-up. So she's starting to believe him.
As if on cue, the office erupts in gunfire, as what was expected to be a standard transfer is something else entirely. Nearly everyone is shot and killed, but Sean escapes with Claire.
To Read More Click Here.