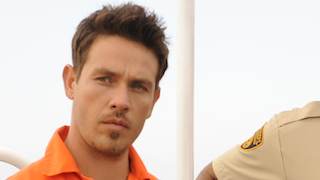 Can Shawn and Gus find out what some escaped convicts are up to, or will a Snickers bar be enough to distract Shawn?
I have to say, that Psych once again does guest stars right this week. First off is Chi McBride. Granted he is not as famous to some, others see him as a great actor in multiple styles (Chi currently stars in Human Target on FOX). His role as Craig was a combination of funny and serious. I have to say any scene between Craig and Lassie had me laughing. Finally having someone who doesn't take Lassie's crap lying down and still can make it amusing is great. The other guest star this week was Kevin Alejandro, who is known to many True Blood fans as Jesus. Kevin played an inmate named Northcutt and I have to say he was believable as an inmate.
To Read More Click Here.