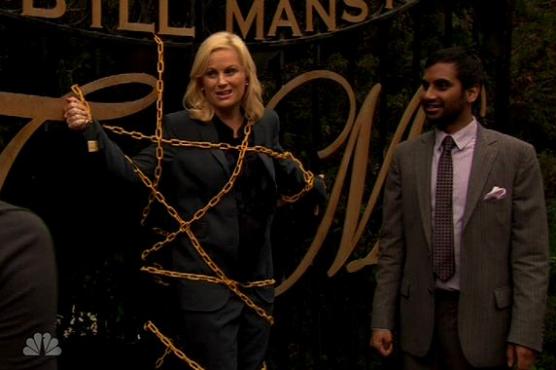 After taking way too much time off, Parks and Recreation came back last night with a strong effort with "94 Meetings." The episode title, which strangely flashed during the title credits of the show, referred to the number of meetings Ron Swanson was stuck with on one very existent March 31st. Time to teach April the knuckle trick, much easier to remember.
The episode premise set Parks up for the perfect formula: a Ron Swanson-centric episode that featured plenty of opportunities for the crazy residents of Pawnee to do what they do best: complain about inane problems.
Leslie also had her own story line as she focused on her first meeting: stopping Jessica Wicks, former beauty pageant winner and current wife of Sweetums founder. There were some funny moments during her plot including Leslie chaining herself to the fence and just about every cheesy line out of Tom's mouth, but overall it paled compared to the rest of the meetings.
To Read More Click Here.