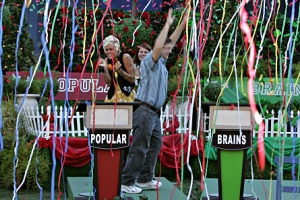 The first week of Big Brother 11 was filled with excitement. There was gameplay, alliances, betrayal, backdooring, a racist outburst and plenty of self-righteous pomposity. How can they possibly expect to keep this up all season long?
The second week of Big Brother 11 might just hold the key, as its full-steam ahead on all cylinders. With nerd Ronnie as the Head of Household, the man who thinks he's the ultimate player now has an even bigger head, and if you're looking for someone who thinks Ronnie and his alliance of holier-than-thou imbeciles are great, go somewhere else. I'm 100 percent on Jeff, Jordan and Laura's side, which means this is going to be a very bad week for me.
There's something disgustingly ironic for CBS to go from an hour-long tribute to Walter Cronkite straight into an episode of Big Brother. First we got to see everything that was once right about television and this country, and that's followed by what the state of TV has become.
The remaining houseguests smell something rotten in the state of Braden-mark. Lydia and Chima are quick to boast and brag about how wonderful they are and how righteous they are.
That's quickly followed by Ronnie winning HoH and comparing himself to Darth Vader. He thinks he can safely play both sides by blaming Michele for the switched vote. The problem is that Ronnie is a terrible liar and Laura is 100 percent certain it's him, but because has all the power, no one can call him out on it.
To Read More Click Here.