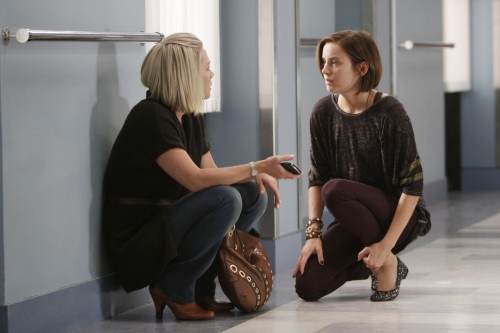 The other night, we said goodbye to a beloved BH 90210 alum. Plus, Jasper officially landed on my Ish List by becoming 90210's answer to Oliver from The O.C.
Jackie Taylor, "Perfect Mom"
Silver freaks out as they take Jackie into the hospital. When Kelly comes, they find out that Jackie is not long for this world and when asked to see her, Silver accepts while Kelly stays behind. Later at home, Kelly pampers Silver, who stayed at the hospital with Jackie, but Silver doesn't want pampering. She wants Kelly to come visit Jackie before it's too late. Kelly doesn't want to budge, because of all the bad baggage between her and her mother. Silver tells Kelly that she will have to let bygones be bygones or she will be haunted for it. Kelly still isn't going for it.
Later when Kelly stops by to pick up Silver, she sees that Jackie's room has been cleared out. The realization hits and it sends Kelly to the ground. While Kelly cries, Silver shows up and Kelly tells her that she was right. She should've said goodbye. Silver reveals that Jackie is actually in a private room and that Kelly still has a chance to reconnect.
We finally see Jackie and the scene is emotional. Jackie tells Kelly that she is damn glad Kelly didn't turn out like every other Beverly Hills brat. She goes on to say how proud she is of that and how Kelly raised Silver. Kelly tearfully says that she forgives Jackie. Sniff, sniff. Then while holding a sleeping Jackie's hands, Silver and Kelly (and the world) witness Jackie Taylor take her last breath.
To Read More Click Here.