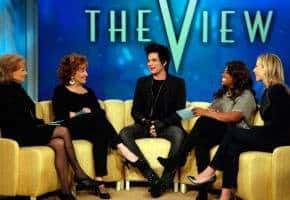 So last night Adam Lambert named one of Barbara Walters' Most Fascinating People of 2009 and this morning be appeared on The View. Big 24 hours for Adam Lambert.
Of course, we've all heard about his American Music Awards controversy, yes? The bag singing, the guy-on-guy kiss and the subsequent cancelation of several appearances on ABC. Well, not all appearances, I guess, since The View is on ABC.
This morning, Adam Lambert performed on The View (with people saying he did a much better job than at the AMAs) and also sat down with The View ladies to discuss the recent controversy. Adam again insisted that his performance at the AMAs was ad-libbed and that he "got caught up in the moment". But he's been saying that for a while now, so it's nothing new.