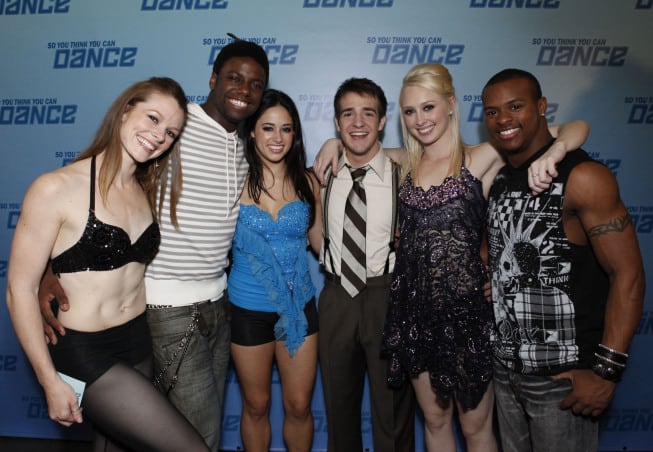 It seems like only yesterday we were in Las Vegas, but here we are in the penultimate week of Season 5 of So You Think You Can Dance. We're down to three guys and three girls all vying for the title of America's Favorite Dancer. It would seem that this year, that distinction of the winner being America's Favorite Dancer rather than America's Best Dancer, is taking a particularly interesting turn. While the top six does include a few of the most technically skilled/flawless of the top 20, people who would be shoe-ins for a competition looking for the Best dancer. There are also at least two dancers who've made it into the final six thanks to their fan favorite status, rather than technical flawlessness. The real question is -- when it comes to the finale, who'll take those four coveted spots? The best dancers or the favorite dancers? Or, could they combine this year and be one in the same?
Watch along with me tonight as we watch the Top Six dancers perform with brand new partners. As always, you can follow along with me both here on BuddyTV and over in 140 character burst on Twitter. After tonight's performances be sure not only to pick up the phone for your favorite dancer (lest there be another Janette-sized tragedy this week) but head over to the So You Think You Can Dance Fantasy TV page to make your picks on which two dancers will narrowly miss the finale.
Alright folks, it's almost dance time! I'm hoping what takes the So You Think You Can Dance stage tonight is as hot as the weather. We're setting record high temperatures here, hope the dancers bring the heat tonight too!
So, we already know, if our so far perfect spoilers are correct, who will be dancing with who and what they'll be performing. Need a reminder? I'm most excited for, well truthfully, everyone but Melissa and Evan. Ade and Jeanine have boundless possibilities for beautiful dancing. And Brandon and Kayla? Get out -- technique! Technique! Technique! It's going to be gorgeous. Melissa and Evan? The verdict is still out, but we're leaning towards painfully awkward, Your Honor.
Alright Top Six, time to impress. And America, time to vote! Don't let your favorite dancer go home with out a fight, or at least a call. Is this the Top Six you were expecting? There are a couple surprises for me, but for the most part I look at that group of Six dancers and kind of just nod with a smile and a "mmmhmmm."
To Read More Click Here.