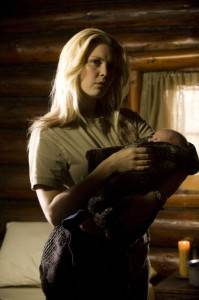 Stargate Universe is back and boy did it come out swinging! We got resolutions to last season's finale up front and a possible new game changer on top of that. It's safe to say that life aboard the Destiny will never be the same again for awhile at least.
Where Am I?
TJ awakes in a cabin, no not a cabin on the ship, but an actual cabin built on land on some off-world planet. After realizing that TJ is fine, we hear the cries of a baby, who we quickly deduce is TJ's. Did the show fast forward a couple of months or something? Not at all.
TJ (and the audience) is stunned when Caine walks into the cabin to greet TJ. You remember Caine right? He's the doctor who decided to stay behind on the planet in the episode Faith, and almost talked TJ into staying as well. In short, this doesn't look well for TJ...
To Read More Click Here.