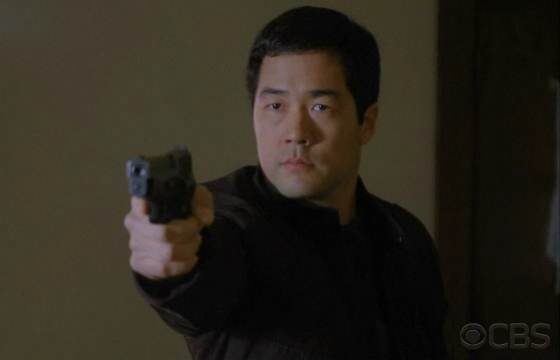 The Mentalist episode, "Blood In, Blood Out" begins with the flip of a coin. Jane has flipped a quarter 20 times, and each time its landed heads. Rigsby is forced to pay up $20, and is frustrated when Jane won't give up the secret of his skill.
Lisbon notices a woman at Cho's desk, who turns out to be his girlfriend, Elise. Lisbon and Rigsby happily introduce themselves, and then Elise asks about Jane. She's startled when Jane shouts "Over here!" from the couch. Elise says hello, then whispers to Lisbon that she thought he'd look scarier. "He's resting," Lisbon answers.
Cho comes in and Rigsby tells him they were about to get to the embarrassing questions. "And that's why were leaving," Cho replies. When Cho's phone rings, Elise tells him she'll meet him at the elevator.
The call is from a Detective Sharon Florey, from the Oakland PD homicide division. Cho thinks she wants CBI help, until she informs him they have a victim with Cho's number on his phone. When Cho hears the description of the Asian gangbanger, he tells her he'll be right over.
Jane knows something is up when Cho bails on a date to go visit a crime scene. Cho declines his offer of help, but when Cho arrives on the scene, Jane is with him. Det. Florey tells them the victim was shot three times in the back, but it didn't appear to be a robbery. He still had his phone, money, and a slip of paper with numbers on it. Jane takes a look at it after Cho.
To Read More Click Here