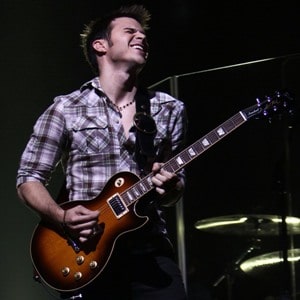 And to think we all complained about that freaking "No Boundaries" song when it was dropped on unsuspecting us during the American Idol finale.
Now, I don't think I'll be able to see any of the tour stops on this year's Idol summer tour, as much as I'd love to see some of them (wink wink). But I always thought the inclusion of "No Boundaries" on Kris Allen's set list would dampen everything--I saw the first set lists and it was very much a high-energy or high-popularity set, and then it'd all go pffft when that song goes in the end? Kris saw that, and perhaps to our delight, he yanked that song off his list.
If you were at the Sacramento stop of the tour, you would've noticed that "No Boundaries"--this year's coronation song, co-written by Kara DioGuardi--was dropped in favor of the Killers' "All These Things That I've Done". The reasons are simple--but no, Kris isn't ditching the song because he hates it. He still loves it, in fact.
"Obviously, adding the Killers song was a, you know, boost in the energy," he told MTV News.
Makes sense. His set includes his much-loved covers of Bill Withers' "Ain't No Sunshine" and Kanye West's "Heartless", plus his take on the Beatles' "Hey Jude". Critics have pointed out that "No Boundaries"--that gloopy song which, to be honest, is probably the gloopiest of all the coronation songs the show has launched on is--really did stick out like a sore thumb. So, Kris ditched it.
And, turns out, Kris is the first Idol winner to distance himself from his coronation song during the tour. Somehow, he had to be a bit heartless... or, I can't resist the pun.