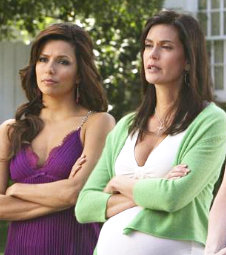 Something is steaming on "Desperate Housewives". Things are heating up between Gabrielle Solis (Eva Longoria) and Susan Meyer (Teri Hatcher), not in the sense of 'bring out the claws' but rather in the form of a kiss.
An exclusive report by Celebuzz reveals that the two characters will lock lips in a future episode and romping will be going on. This remains an unconfirmed story but when the rep for creator March Cherry is approached for comment, they said they will "leave it to the imagination." No clue yet in which episode the kiss would occur.
Meanwhile, the show will be back this Sunday, February 15 with an episode called "In a World Where the Kings Are Employers". Susan starts a new job in order to give son M.J. the best, but when Mike leaves their son in Katherine's care, anger and jealousy pervade. Carlos receives a generous bonus when Gaby discovers his boss' dirty little secret.