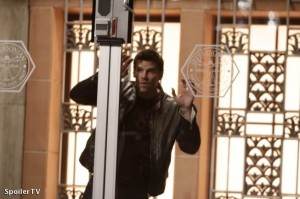 It's a conspiracy theorists dream on tonight's episode of Bones. The age old question is asked, was there more than one shooter the night that President Kennedy was shot. The show starts off in typical Bones fashion. Booth is in Brennan's office trying to convince her that she needs to eat and that the cheese on the pizza is a spitting image of the late Michael Jackson ( I didn't see that). Brennan looks confused as usual and Booth does his best Michael Jackson impersonation. He moonwalks out of her office telling her that he will see her Monday.
A panicked Cam walks into Brennan's office holding a home pregnancy test. Cam asks her if she is by chance pregnant. Brennan reminds her that she hasn't been in a sexual relationship in a while so that would be impossible. Cam tells her that the only people that have used the bathroom were her, Angela & Brennan. She realizes that Michelle had visited earlier in the day. She immediately jumps to the conclusion that Michelle must be pregnant. After going to Angela's office to ask her if she is pregnant she is thoroughly convinced that Michelle must be the one who is pregnant. Cam is devastated.
Angela later goes into Cam's office to tell her that the pregnancy test that she found was actually her's. Angela is pregnant with Wendall's baby. Though Cam is relieved that Michelle is not pregnant, she is worried how Angela is taking the news. Angela is understandably scared; it was something she was not prepared for.
To Read More Click Here