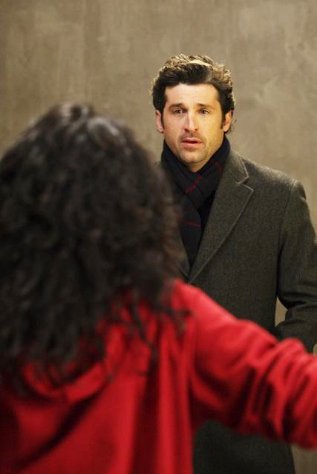 A ring is out and a proposal may be imminent. Through the preview of "Grey's Anatomy" January 22 episode, it is seen that Derek plans to give a diamond ring to Meredith. Also in "Stairway to Heaven", Izzie slaps her deceased boyfriend, Denny, and Sloan is in pain.
The episode will also continue the dilemma faced by the doctors when they have a patient who is a serial killer. While Bailey grows desperate as her young patient's condition becomes more and more dire, the convict tells her that he is ready to donate his organ to the boy. They have a match and Meredith try to grant the death row patient's wish to die before execution. Meanwhile, an injury leaves Sloan in a compromising position in the OR and Cristina awkwardly avoids Owen.
A scoop from Michael Ausiello of Entertainment Weekly reveals that Sloan has a fracture in his penis.
For the Preview click here