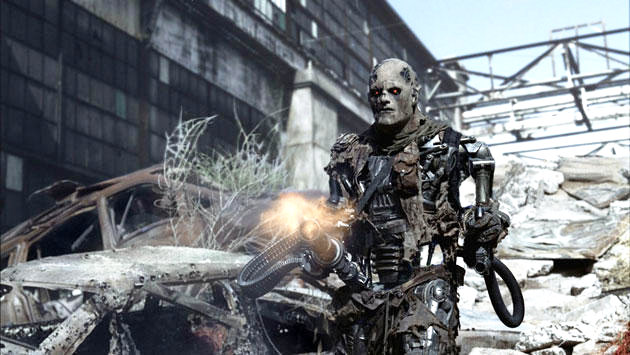 Before "Terminator Salvation" opens wide in the U.S. on May 21, Warner Bros. Pictures will hold an advance screenings in a number of cities, and are holding a contest giving away VIP passes. The VIP passes mean that two seats are reserved for the holder and a guest who don't have to wait in line for the screenings scheduled for May 18 and 19.
To win the passes, you should fill a form on 43Kix.com or directly text SALVATION followed by one's zip code to 43549. You will receive a text message with a link that is unique to your entry. The text containing the link then can be forwarded to friends, family or whoever you think will help you win since the more times people click on that link, the more entries into the contest you will get.
Contest ends on Wednesday, May 13 at 11:59 P.M. PDT. Winners will be chosen randomly out of all eligible entries within a 30 mile radius of each theater and notified via text on Thursday, May 14, or Friday, May 15. More info for the city listing of the advance screening can be read via 43kix.com.
The fourth installment of the "Terminator" franchise, "Terminator Salvation" is set in post-apocalyptic 2018 when human survivors join John Connor and his resistance army in the battle against the Skynet's killing robots. However, when Marcus Wright, a stranger whose past could not be justified, comes along, Connor's belief is shaken to the core. While struggling to decide whether Wright has been sent from the future or rescued from the past, Connor is forced to work with Wright as Skynet prepares its final onslaught.
Directed by McG from the script written by Jonathan Nolan, John D. Brancato and Michael Ferris, this action movie has Christian Bale and Sam Worthington starring as John Connor and Marcus Wright respectively. The two will be supported by Moon Bloodgood, Common, Bryce Dallas Howard, Helena Bonham Carter, Anton Yelchin and many others.