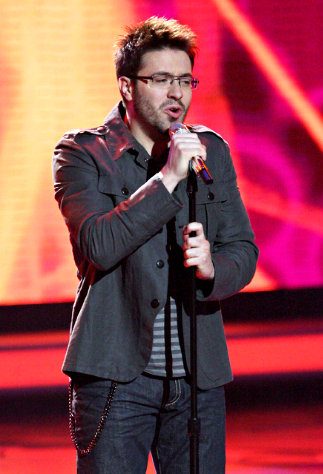 88 million votes came pouring in during "American Idol" Top 3 performance night but only one million separated the Top 2, meaning that the final may be a close call. America has voted, Adam Lambert and Kris Allen advance to the next round while Danny Gokey has to end the journey third place.
On Tuesday, Gokey sang Terence Trent D'arby's "Dance Little Sister" and was criticized for his awkward dancing and the song choice, which actually was Paula Abdul's pick. And then in the second round the Milwaukee native went acoustic with Joe Cocker's "You Are So Beautiful". Simon Cowell called it "a vocal master class."
Filler of the night was a performance by season 6 winner Jordin Sparks who debuted her new single "Battlefield" accompanied by piano. Katy Perry was also in the house, singing "Waking Up in Vegas" and wearing a cape with "Adam Lambert" written on the back.
There was a cross promotion of "Night at the Museum 2: Battle of the Smithsonian" where cast such as Ben Stiller, Bill Hader, and Hank Azaria were present. Idol Gives Back also put Alicia Keys on the front to introduce a video of their work in Africa. A little boy named Noah who came from Rwanda then performed "I Am the World's Greatest" and Alicia explained that he learns English through singing a song.