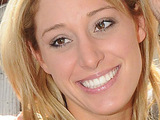 The Bachelor star Vienna Girardi is "adorable in person", according to E! Online.
The 23-year-old from Sanford, FL - who became engaged to airline pilot Jake Pavelka in the ABC show's season finale - had been painted in a bad light by some tabloids during her time on the competition.
However, an insider who recently met Girardi and Pavelka in Los Angeles has insisted that the reports are untrue.
"The cameras didn't do her justice! She's just adorable in person and couldn't be nicer. She's much prettier than she looked on TV. I can see why he chose her," they said.
The couple are currently living in Los Angeles while Pavelka competes on Dancing With The Stars.