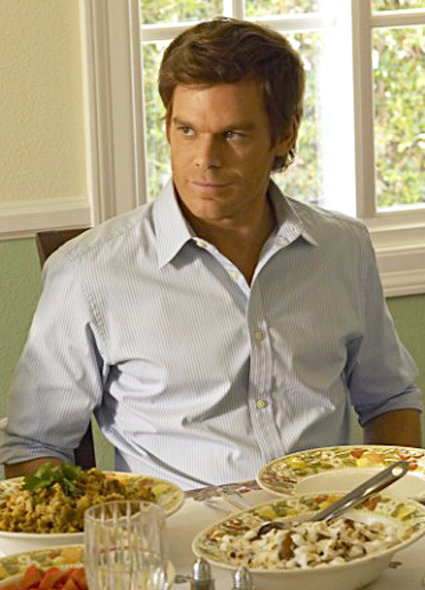 In this episode of Dexter, Dex makes a startling revelation about Trinity's murder pattern, while Deb makes a huge break in the Lundy murder case. Plus, Quinn also learns some unsettling news about his girlfriend Christine.
Trinity Breaks His Pattern
At the start of this week's episode, we find Dexter has moved his kill tools into a shipping storage container. "It makes more sense," he says. "That's where my dark passenger was born."
Dexter trails Trinity, but he doesn't stop at his usual choir practice. Instead, Trinity pulls into a parking garage and lays his eyes on a young woman with children. Trinity follows them into the arcade and Dexter stays on him. While Dexter thinks he's plotting to start his cycle again with a young woman in a bathtub, he loses sight of Trinity in the crowd. Trinity instead winds up talking to the little boy, pretending he's a cop. He tells the boy his parents have been in an accident and he must come with him.
As Trinity and the boy walk toward his van, Dexter catches a glimpse of him and screams Trinity's name. Probably not the best way to handle the situation since Trinity shoves the boy in the van and takes off with Dexter chasing on foot. By the time Dexter gets to his car, Trinity calls him and says he doesn't appreciate being followed. He also says he will "preserve" the boy's innocence. When Dexter threatens to tell the cops, Trinity threatens to harm the child. Dexter is at a loss for why Trinity kidnapped this boy, and Harry rubs it in more by saying, "If this is new, this is on you." What an encouraging ghost dad.
When the boy comes to, he finds himself in a dingy basement with Trinity, who is playing with a toy train station. He refers to the child as Arthur (Trinity's real name), but the little boy is snippy. Trinity opts to deal with this by not giving him food until he changes into his pajamas. The boy begins to play into Trinity's wishes (smart cookie), and Trinity says he'll take him home once he finishes his dessert. Of course, Trinity is lying, considering he put drugs in the ice cream.
To Read More Click here.