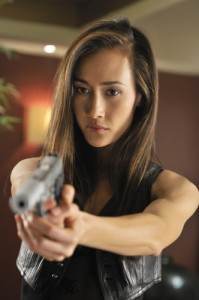 By the end of this episode of Nikita, I'm going to owe someone an apology.
Even after doing an advance review of tonight's episode, I found myself still thinking on it last night and this morning - the first sign of a good television series. Regular readers are well aware that I've been sitting on the fence with this show, torn between appreciation for its effort and disappointment with the final product. However, the promos for this episode promised things I've been looking for all along - and with one exception, the hour delivered. I can say without reservation that I've come down off the proverbial fence, and on the side of Nikita.
How did that happen, you ask? Let's get to the action and I'll show you.
Nikita is at a playground, where she approaches Lisa, the widow of a Homeland Security agent named Victor Han, whom Nikita killed at the beginning of her career with Division six years ago. She tells Lisa that she's going to complete Victor's work by taking down an element of the Chinese mafia known as the Red Circle Triad, which he was investigating for its supply of slave labor to fashion houses at the time she killed him, and is there to send Lisa and her daughter Sophie off to a safehouse before she embarks upon this redemptive mission. Already we've bypassed the show's standard Division has mission, Nikita goes to thwart mission formula. Once she's seen the wife and child safely off, Nikita is able to slide seamlessly (as Maggie Q is herself a former model) into the role of a buyer visiting one of the fashion houses supplied labor by the Triad, where she oh so nicely (not) asks the designer where the sweatshop is.
To Read More Click Here.