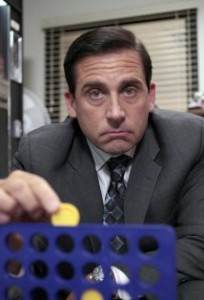 So who else is on the waiting list to send their kids to Dwight's (Rainn Wilson) day care center?
This is an episode I think most fans have been waiting for. A battle of the half-wits between Michael (Steve Carrell) and Toby (Paul Lieberstein) that also included a riveting game of Connect Four. Michal took the early upper hand with his fictitious storytelling (ALF for the win) but Toby quickly turned the tables by getting Michael to open up while playing board games and cards.
Not only only were these scenes funny, but they gave us some additional insight into Michael, even if they were fairly obvious (It's important for you to be liked, isn't it Michael?). One wonders if this will be part of the arc for Carrell's last season: finally getting to see deeper inside the root of Michael's insecurities. After all, we've been watching them manifest for seven seasons now. It would be nice to see his character exit with some degree of healing.
To Read More Click Here.