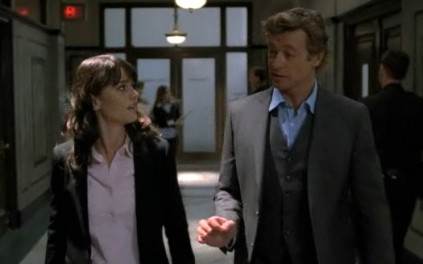 The Mentalist, "Blood Money", opens ominously in Old Town, Sacramento on a darkened street. We see a woman being followed into a shadowy alley by a man in a hooded sweatshirt. Turns out that woman is Grace Van Pelt (Amanda Righetti), and she meant to meet the man in this alley. They talk in circles for a minute, and it's clear she wants to hire him for something. When "Mr. Black" tells her she'll have to "say it out loud", she finally holds up a picture of Rigsby and says she wants him killed.
36 hours earlier: CBI agents Wayne Rigsby (Owain Yeoman), Teresa Lisbon (Robin Tunney), Van Pelt, and consultant Patrick Jane (Simon Baker) are at the scene of a murder. The victim is ADA Kelly Flower (Rachel Montez Collins). Her nightgown is ripped, but it's not due to assault, it's from her crawling across the floor before being shot point blank. When Jane questions the concept of working harder to solve the crimes of their law enforcement coworkers, Lisbon says it's a deterrent to anyone thinking of trying the same thing. Jane disagrees, saying it's pure revenge–which he personally has no problem with.
To Read More Click Here.