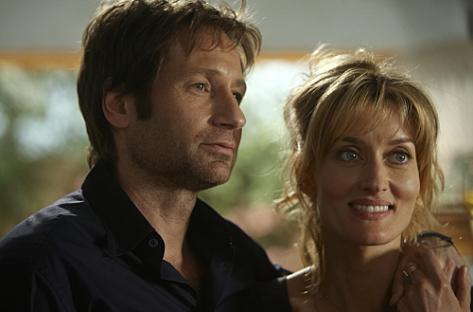 Do the Californication writers know how to execute a season finale or what?!?
Though many of us have found some of the episodes this season to be a little wanting, this season's finale, called "Mia Culpa," was a total knock-out! Check out our episode guide for a complete recap of the finale!
Californication is so great because it marries cutesy adult-themed shenanigans and trashy banter with real drama. And they pulled out the drama big time for this finale! (I must admit, I got teary-eyed more than once this episode.)
It seems that the key to this show is ending the season with a dramatic twist in the Moody family story line. This isn't a show about sex! It's a show about a family - if you take a look at each season's finales, you can see that this is what keep the viewers coming back for more:
Season 1 Finale: "The Last Waltz" - In a dramatic final scene, we see Hank rescuing Karen from her wedding, and running off with her and their daughter - we were so excited to see what the future held for the newly reunited family.
To Read More Click Here.