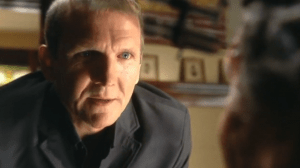 Previously, shape-shifting soldiers from the Other Side broke into cryogenic labs across the country looking for a specific frozen head. It belongs to the man whom William Bell warned Olivia about, a man who can open the door between universes and bring around the end of the world. Olivia was supposed to stop them from acquiring the head to save the world. She failed. Bad Guy Curtis Smith (they only just gave him the surname of Smith. I'm still calling him Curtis) set the defrosted head above a decapitated corpse and the head reattached itself…
Hennington Mental Health Institute, Boston. A male patient in a chair drones on about a little girl in a red dress with a flower in her hair. Another man - reattached cryohead man, whose name is Thomas Jerome Newton - keeps him talking while he works behind him. Eventually Newtown pulls something organic looking out of the back of the patient's head. Newton's accomplice warns that someone is coming. Newton apologizes for leaving the patient in "such a state" and takes off. A nurse enters the room and screams when she sees that the back half of the patient's skull has been removed and his brain is exposed.
To Read More Click Here.