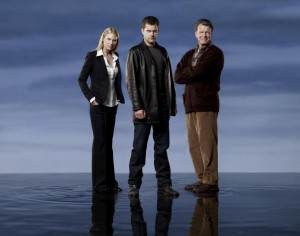 FOX did this with Dollhouse and it ended up getting canceled. Now, that doesn't necessarily mean that the same thing with happen to Fringe, but The Futon Critic has revealed that Fringe will be going on a 7 week hiatus beginning on February 11th. Fringe will return on April 1 and will air the remaining 7 episodes of season 2 uninterrupted.
During its hiatus, FOX will air the midseason series "Past Life" in its place:
3shot-pool_1905-comp-fringe-season-2It's believed the newcomer will bow with back-to-back episodes on February 11 while the remaining installments will fill the Thursday, 9:00/8:00c hour for five of the next six weeks. (A Thursday edition of "American Idol" will bump the series the other week.)
As for "Past Life," FOX announced at its upfront back in May the series would follow "American Idol" on Tuesday nights. The network subsequently rolled back the show's 13-episode commitment to seven episodes, making the shift to Thursdays not much of a surprise. It's not clear what will be paired with "Idol" on Tuesdays however it most likely won't be scripted programming.
The news comes as FOX gets ready to announce its midseason schedule. Originally pegged to be announced this week, it now appears the network will hold off until after the Thanksgiving holiday.