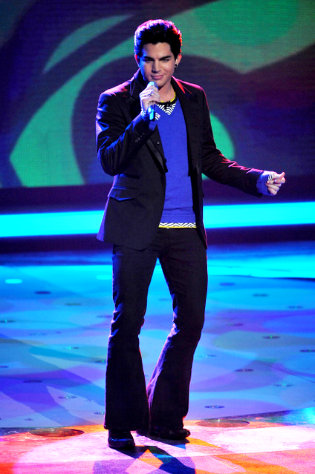 With eight more to go, "American Idol" continues with the theme of: Songs From the Year You Were Born. All contestants were born in the '80s except for Allison Iraheta who was born in 1992. And in celebration of the theme, baby photos of the contestants will be shown along with the judges'.
Kicking off the show is Danny Gokey (born 1980) with "Stand by Me" in Mickey Gilley's version. The judges hate the arrangement but indicate that they still love him. Paula Abdul makes a hyperbole statement that Gokey sets the bar so high that everyone else has to run to catch up. Simon Cowell laughs at this, and says that the middle was lazy but the ending and the overall was good.
Kris Allen (born 1985) who had a rave review last week, takes the second number, singing Don Henley's "All She Wants to Do is Dance". Kara DioGuardi gets to say something first, describing it like a class assignment to interpret a song. Simon agrees to this and adds later that it was actually indulgent, forgettable and boring. Randy Jackson gives a nod to this.
To Read More Click here.