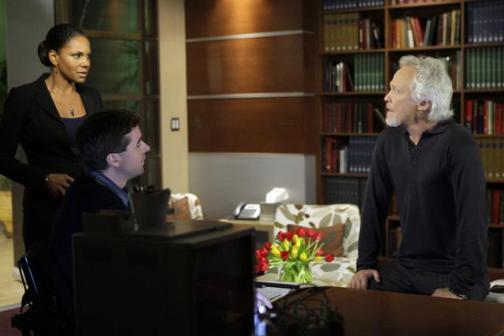 There was a lot going on last night on Private Practice, both in terms of patient stories and character drama. While tough to follow at times, it certainly didn't lack for drama.
"Fear of Flying" gets underway with Addison's pregnant patient, Elisha, who's about to marry her boyfriend, Esau, a Kenyan who needs a physical to get his visa renewed.
However, Sam finds he has tuberculosis - untreatable - and he is quarantined. The couple decides to make a run for it, but ultimately comes back when she goes into labor.
Immigration shows up to take him away, and it's very sad. Sam pretends he's sick long enough for him to see his baby, who will have to remain in the U.S. for treatment.
Meanwhile, Sam is apparently good with Addison and Pete now. The reason for that? New girlfriend Vanessa. Even though he thinks about Addison while he's with Vanessa.
To Read More Click Here