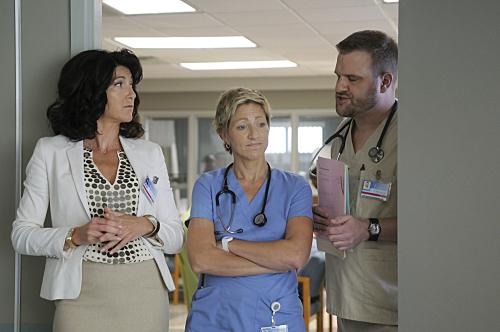 In many ways, Jackie hit rock bottom this week.
No, she didn't sleep with Eddie again or even snort a new round of drugs. But she lied to O'Hara, the one person to whom Jackie could actually be open and honest.
In "P.O. Box," Jackie deceived her best friend, went against her husband's wishes, discovered her lover might be working at the hospital again and learned that her daughter has a serious mental problem. It was a really bad day.
While we still feel like the show is spinning its wheels a bit on the Eddie/Jackie front, and that it never really followed up on the major confrontation between Jackie and Kevin a couple weeks ago, supporting characters have grown into their roles so well that each week still delivers a series of laughs and worthwhile storylines.
Trio of Nurse Jackie Characters
To Read More Click Here.