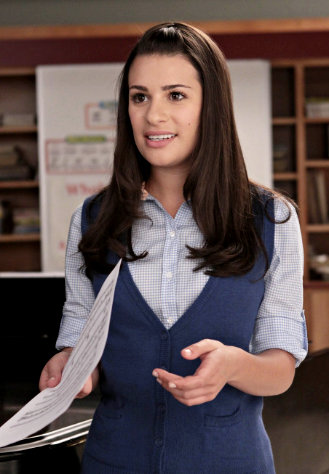 Josh Groban this week, Celine Dion next week. In the preview released for the September 23 episode of "Glee", Rachel Berry is trying out for a spot in a cabaret where one "must" sing a Celine Dion song during the audition. She opts "Taking Chances".
Meanwhile, Kurt takes center stage when he tries out for the football team in order to impress his dad. Sandy and Sue join forces to carry out their plans for destroying the Glee Club. Meanwhile, Quinn and Finn's relationship is tested when they receive some life-changing news.
Guest stars in this episode are Stephen Tobolowsky as Sandy Ryerson, Iqbal Theba as Principal Figgins and Patrick Gallagher as Ken Tanaka. The episode's title "Preggers" is referring to the fact that Terri is not pregnant but is determined to keep her man with her. So in order to keep her husband Will out of Emma, she is faking the pregnancy with artificial tummy.
To Watch The Preview Click Here.