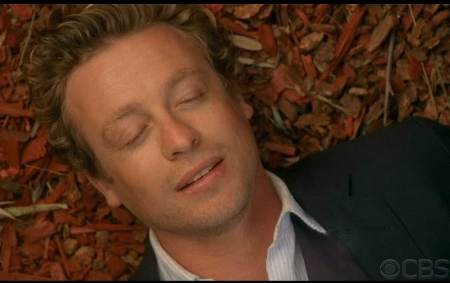 The other night we got a dual episode of The Mentalist with "Throwing Fire." The episode begins at Sloop Academy, a training camp for up and comer baseball stars. One of the academy's founders is discovered dead in his Zen garden, killed by several blows from a baseball bat. As Jane, Lisbon, and Cho begin their investiation, the team continues practicing. A stray ball hits Jane and knocks him out cold, causing him to drift into memories of his father Alex (played by Nick Chinlund).
The flashback begins with a circus duo act of father and son, with young Patrick Jane playing the "boy wonder" who can "see" objects even with a blindfold on. Emboldened by his success identifying an audience member's cigarette case, Patrick does one of his well known readings of the woman, guessing the case belonged to a recently deceased grandmother. After the performance, Patrick's father chides him for going off the script, and tells him there's no sense in a con that doesn't bring in the cash.
Jane eventually comes to, and being Jane, refuses medical care. Throughout the episode he acts even more strange and flakey than usual, with occasional fainting spells. The investigation continues, however. Lisbon and her team discover that the victim Sloop had adopted the Zen lifestyle to cope with the accidental death of his 3 year old son.
Rigsby and Van Pelt track down Sloop's unstable ex-wife, who is sleeping with one of her former husband's players, and who has never gotten over her son's death. They find her drunk and morose at her son's grave, holding a gun and prepared to commit suicide. Van Pelt speaks very movingly of her sister who selfishly decided to take her own life without considering others. She manages to talk Mrs. Sloop down enough to get the gun from her safely. Later, Rigsby asks Van Pelt about it, and she says she doesn't have a sister. Rigsby goes along with the idea that she made it up, but he's definitely thinking that she may mean she doesn't have a sister anymore.
To Read More Click Here.