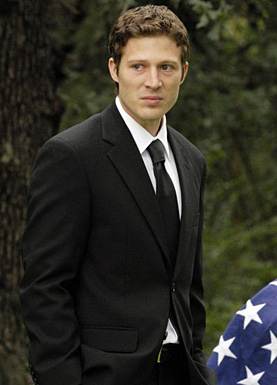 Hiya TVOvermind faithful! I'm Cory Barker. I'm new to the staff and will slowly be working my way into the fold here.
Since its debut, Friday Night Lights has been critically acclaimed, but lacked any mainstream support from viewers and ultimately NBC as well. That lack of awareness has translated to the Primetime Emmy Awards, where the production has only been nominated five times in four years, three of which were for casting. No one on the much-praised-by-critics cast has been nominated.
But this year, there's a chance one performer breaks that trend: Zach Gilford.
Yes, Gilford garnering an Emmy is a longshot, but there are more things in favor than perhaps there has ever been for a FNL performer. The episode he'll be submitting - "The Son" - was hyped by critics both during its first DirecTV airing in the fall and the re-airing a few weeks ago on NBC. Time's James Poniewozik noted that "'The Son'" was one of the most fantastic episodes of TV to air in 2009." Alan Sepinwall said that the episode "was one of the best in the run of this wonderful series." And of course, all that hype centered on Gilford's emotionally powerhouse performance.
To Read More Click Here.