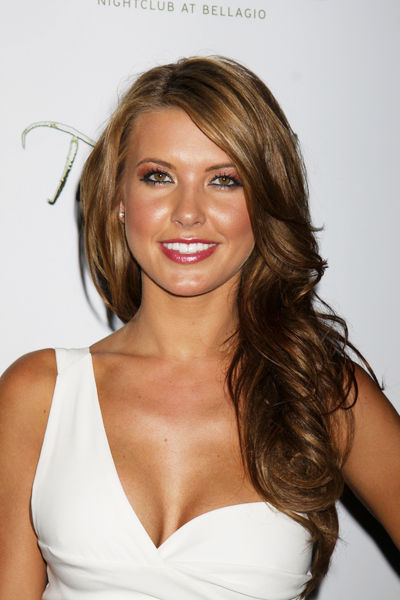 Previously refusing to confirm her rekindled romance with on-off boyfriend Corey Bohan, Audrina Patridge was seen bringing along the BMX rider with her when attending the Red Bull event honoring action sports icon Travis Pastrana in Hollywood on Tuesday night, July 28. The pair, who briefly dated last year, hit the event's red carpet with smile on their faces. "We've been taking a lot of surf trips, hanging out at the beach - just chilling," Corey told E! News.
Later inside the star-studded party, Audrina and Corey enjoyed some major PDA. They were "sitting at a VIP table" and "couldn't keep their hands off of each other," E! News reported. Moreover, they were said touching, giggling and whispering to each other throughout the entire night. The twosome was later seen hanging out with Ryan Cabrera and Josh Henderson.
Audrina Patridge and Corey Bohan were rumored rekindling their broken love relationship after they reportedly were spotted making out during her brother Mark's birthday party at Las Vegas hot spot Tao Beach in early June. Both of them were said cuddling and kissing at the bash. Greater than that, they were also photographed holding hands and kissing while strolling on a beach in Mexico.
When asked by the press to confirm the nature of her and Corey's relationship, Audrina said, "I'm not jinxing anything because as soon as I say anything, I swear it goes bad. And then it like flips around and you're like, 'Why did I say anything?' We'll see what happens." She then simply added, "Corey and I have an amazing time together. My family loves him. We've been spending a lot of time together."