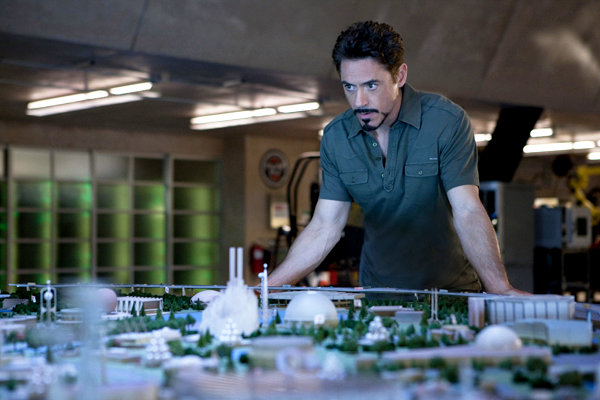 An all-new picture from "Iron Man 2" has been unveiled. Accompanying the first part of Marvel.com's set visit report of the much-awaited "Iron Man" sequel, the fresh image takes a close look at Robert Downey Jr.'s Tony Stark as he is submerged in deep thought when observing a scale model of the Stark Expo.
The photo is taken from one of the scenes the site has got the chance to see during its set visit to Tony Stark's workshop. [SPOILER ALERT!] Describing the footage itself, Randy Ma of Marvel.com wrote, "The first scene depicted Tony looking down at a scale model of the Stark Expo, which closely resembles the New York World's Fair Pavilion."
"This included a Unisphere at the center of the convention," he continued on by detailing. "As the camera panned from the level of the model towards Tony looking inquisitive at the Stark Expo, he spoke to himself, 'The key to the future is...where?' "
On the second scene the site saw during its visit, Randy shared that it contains the shot of Tony's interaction with his computer, JARVIS, in his workshop. In the footage, Tony is seen utilizing "the holographic-floor as he paced around the workshop to investigate further into the main pavilion of the Stark Expo" and "reconstructs the main pavilion by enlarging and relocating structures with his hand motions."
Providing more details on the particular scene, Randy reported, "Doing so evidently allows Tony to reach a conniption prompting him to remark to Jarvis, 'I am discovering-rediscovering-a new element.' " He also added that the two scenes previewed hinted that the central mystery of this sequel will require the title character to look into his father's past.
Set to hit U.S. theaters on May 7, 2010, "Iron Man 2" has its script written by "Tropic Thunder" scribe Justin Theroux with director Jon Favreau returning to helm. Its star-studded cast ensemble include Gwyneth Paltrow as Pepper Potts, Don Cheadle as Colonel James 'Rhodey' Rhodes, Scarlett Johansson as Black Widow, Samuel L. Jackson as Nick Fury and Mickey Rourke as Whiplash.