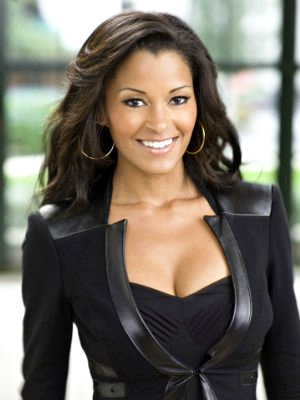 "Deal or No Deal" briefcase holder Claudia Jordan was the first eliminated woman in "The Apprentice" second celebrity edition. She said it "sucks" to be the first female to leave Athena but admitted that she lost control of the team while she's a project manager.
The challenge in the episode is the launching of ACN videophone which was judged based on votes by the company's workers. It was as much a Dennis Rodman rage affair as the women's meltdown. Annie Duke was sent to negotiate with Clint Black on determining who should go with the presentation first. The men won through a coin flip. Rodman suddenly got up to Clint and cursed him for not asking first.
The men then have the discussion in the car whether they should include Rodman in this project or not. Brian McKnight insisted that they don't because they don't have someone to babysit the basketball player. Meanwhile, the women began with their first move, meeting the account executives of ACN. Jesse James had the idea to film them mingling with the troops which is miles away in the WestPoint. McKnight decided to stay with Black to work on the music while James and Herschel Walker went to the base camp.
The women agreed on having Joan Rivers to MC in the presentation, making use of her comedic talent. This has become a problem when they found out that Joan, who was giving a talk outside the show, would not be able to arrive on time. They also had trouble directing the actor and the baby who would represent their video montage. Natalie Gurbis found a way out by calling her private jet company to fly Joan in at the right time.
Donald Trump Jr, checked in to visit the women and were treated with a performance of Brande Roderick and Tionne Watkins who imitated Rodman and Black. Meanwhile, on the men's team, Black and McKnight argued on the musical direction of the show. McKnight who composed the music through his phone got asked by the clearly annoyed Black. McKnight said that he didn't need the country music singer's opinion.
To Read More Click Here.