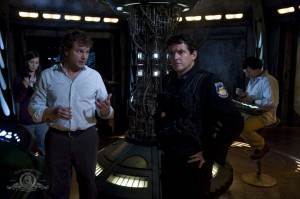 MAN! If anyone thinks that SGU sucks after last night's episode, then I really don't know what to say. I feel bad for those who tuned out, but at the same time I can't hold anything against them. I do know one thing though: I officially hate the Lucian Alliance…
In Good Faith…
Each faction prepares for the medical supply exchange, but the crew of the Destiny has a plan. What that said plan is? I don't know, but it involves Greer being a part of the exchange in civilian clothing and in a red shirt mind you. Not cool.
When they make the exchange, Col. Young introduces Greer as another medic. Kiva makes TJ check the supplies to see if the Lucian Alliance actually needs them for their services. After this goes down, the ship's power goes out again and Kiva thinks that Col. Young and crew are at fault, especially after Greer raises his gun declaring that he has the shot and TJ in the middle of both camps. Col. Young commands for TJ to come towards him, but Kiva threatens to kill her where TJ stands if one step is made in the wrong direction. Kiva also reveals that she has her men on standby to kill anyone if she is killed or wounded in any way. In the end, Kiva gets the upper hand and they take the supplies and TJ and go their way, while Col. Young licks his wounds from that major screw up. So much for taking the ship back…
When Kiva's camp returns to the gate room, she is so pissed that she kills the soldier who was picked out with Riley and TJ as if the guy was a bag of garbage. The woman didn't even bat an eye as she slayed this guy, who was named Rivers, and I had to replay the incident a couple of times, because it was just that quick and ridiculous. Kiva is one bad bitch… Anyway, Telford is pissed at Kiva's callous behavior, but gets shut up by the gunslinging diva. Kiva then orders for TJ to tell Col. Young what happened.
To Read More Click Here.