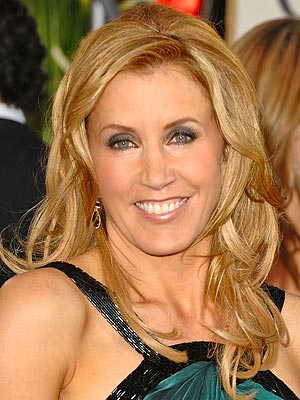 "Desperate Housewives" stars Marcia Cross, Eva Longoria Parker, and Dana Delany attended a special screening of their co-star Felicty Huffman's new film 'Phoebe in Wonderland' -- and "The Insider" got the dish on the recent news that Nicollette Sheridan will be leaving Wisteria Lane.
Felicity tells "The Insider" that she will miss both Sheridan and her character Edie Britt, but she is confident that "Housewives" creator Marc Cherry has some solid plans for the future of the show.
"I'm feeling sad I'm really going to miss her," Felicity says. "I'm going to miss her, and I'm going to miss Edie, but Marc Cherry has led us brilliantly. He has an artistic vision, so we go with that."
'Phoebe in Wonderland' is the tale of a young girl (Elle Fanning), who struggles to follow the rules but finds inspiration and solace from her drama teacher, played by Patricia Clarkson.
Felicity Huffman plays Fanning's mother in the film and stars alongside Bill Pullman.
Catch 'Phoebe in Wonderland' in theaters March 6.