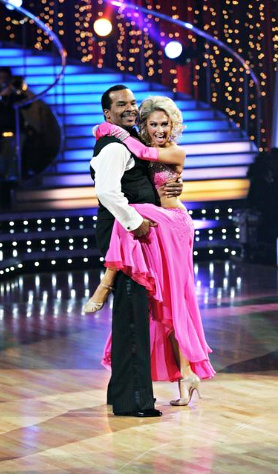 Two down, eleven to go. "Dancing with the Stars" presented two dances on Monday, March 30 that have never been performed in the show so far, Lindy hop that is all about rock and roll and requires high technique of lifting; as well as Argentine tango which is all about sensuality and passion.
Opening the night were David Alan Grier and Kym Johnson with lindy. So serious these two in winning the competition that during the rehearsal they came to visit the real routine performed at Lindy Groove in Pasadena. Len thought it was neither the best and the worst out of David but this was tackled by Carrie who thought it was a good one. Bruno gave advice for David to keep his rhythm while dancing fast. The score was 8-7-7, giving it 22 out of 30.
Second couple to perform and the first to dance the tango were Lil' Kim and Derek Hough. Derek admitted that he also knew little of this type of dance so they were learning together. Both Bruno and Carrie thought it was a marvelous performance with the former getting up his seat. Len however, thought there was something missing that didn't quite ooze the passion. The score was 9-8-10, giving it 27 out of 30.
Chuck Wicks and Julianne Hough were up next, doing lindy and dressing in old school fast food employees uniform. Carrie, Bruno and Len all agreed that there was some room left for improvement and they wanted the couple to go further than that in order to be in the game. The score was 8-7-7, giving it 22 out of 30.
Next were Lawrence Taylor and Edyta Sliwinska with the tango. To show Lawrence how things should be done, Edyta brought in her husband Alec Mazo into the rehearsal. The actual performance however, was deemed too "heavy" and lacking the essential passion by the judges. Bruno pointed out that Lawrence's footwork was not correct. The score was 7-5-7, giving it 19 out of 30.
To Read More Click Here.