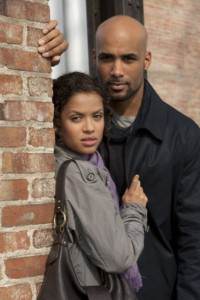 As a part of Undercovers Wednesdays, I will be giving you my review of the pilot episode of Undercovers, the J.J. Abrams new spy show starring Boris Kodjoe and Gugu Mbatha-Raw as Steven and Samantha Bloom, married ex-CIA agents who are drawn back into the spy game after a five year absence. The show garnered a lot of buzz during production due to Abrams's name being attached to it and the fact that its two lead characters happened to be African-American, which co-creator Josh Reims suspected would be a big thing. We all wish it wasn't such a big deal at this point but unfortunately that's the way it is right now, Reims told The Hollywood Reporter in July. It is good to note that Gugu Mbatha-Raw is actually British, while Boris Kodjoe is African American.
Undercovers has been compared to shows like Abrams first spy drama, Alias, and the classic Hart to Hart, both of which I have yet to view on my own in their entirety. So with the similarities between those two shows, Abrams's established name attached to it, and two African-American lead characters in place, does Undercovers live up to the hype of being the next big thing?
In short, yes and no.
To Read More Click Here.